Noctuelia dichroalis Hampson, [1903]; PED 7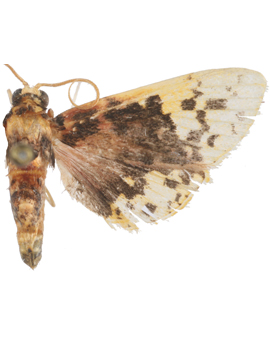 Taxonomy

The holotype of Noctuelia dichroalis Hampson, 1903b :224 from Sri Lanka (Matale) is in the NHM. A generic revision of Noctuelia is probably required as members of the Noctuelia tapsusalis group are visually very different from this purple-brown and yellow N. dichroalis group.

Description

Wing length : 13mm. Some of this group of distinctive purple-brown and yellow spp. resemble Conogethes spp. They are found over much of tropical Asia. See Noctuelia spp. 1, & 2 which have similar patterning.

Schulze (2000) taxon #627 as Mimetobulea [A genus not found in LepIndex]

Distribution & Habitat

Sri Lanka, Sabah, China (Yunnan). Lowland primary & disturbed forest including the canopy; <630m.

Life History & Pest Status

no content available.

Similar spp.

Conogethes; Noctuelia sp. 1, 2, 3 & 4.

Unrelated Look-alikes

no content available.

References

Hampson, C.F. (1903b) The Moths of India Supplementary paper to the Volumes in 'The Fauna of British India' Series II part X with pl. C. J. Bombay Soc., 15: 206-226.

Schulze, C.H. (2000) Auswirkungen anthropogener Störungen auf die Diversität von Herbivoren. (Analys von Nachtfalterzönosen entlang von Habitatgradienten in Ost-Malaysia). Unpubl. PhD Thesis, University of Bayreuth, Germany: 350 pp.

Genitalia

no content available.

DNA Barcode

no content available.

3D Imaging

no content available.

Spare

no content available.
KEY TO TABS
(1) Taxonomy, (2) Description, (3) Distribution & Habitat, (4) Life History & Pest Status, (5) Similar spp., (6) Unrelated Look-alikes, (7) References, (8) Genitalia, (9) DNA Barcode, (10) 3D Imaging, (11) Spare