Cnaphalocrocis trebiusalis Walker, [1859]; PED 15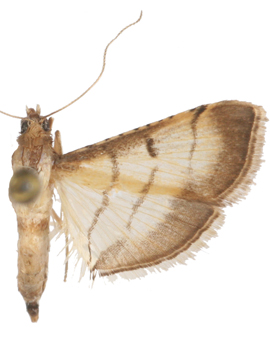 Taxonomy

The holotype of Botys trebiusalis Walker, 1859d: 718 from, Sarawak is in U.M. Oxford.

Syn. Epimima stereogona Meyrick, 1886: 236 TL Fiji. TS of Epimima.

Description

Wing length: 7mm. The broad dark HW submarginal band is parallel to the wing termen but the FW has a pale patch adjacent to the post median line which like Cnaphalocrocis patnalis and C. poeyalis is displaced proximally to the rear of the FW unlike C. medinalis. The FW costa has a series of dark brown marks like some other Cnaphalocrocis spp. such as C. poeyalis.

Schulze has specimens under this name but there are two different morphotypes in his series. Cnaphalocrocis trebiusalis? Schulze (2000) taxon #341a and C. mimica? taxon #341b.

Distribution & Habitat

W. Africa, Madagascar, Seychelles, Sri Lanka, India (Himal Pradesh), Thailand, Sabah, Sarawak, Java, Samoa, Fiji, Solomon Is. Lowland and hill forest and cultivated areas, oil palm plantations, disturbed forest; <800m.

Life History & Pest Status

The larvae is a leaf-roller on grasses (Poacea). Reported on Opismenus compositus in Western Samoa (Swezey, 1941; Comstock, 1966)

Similar spp.

Cnaphalocrocis patnalis
C. poeyalis

Unrelated Look-alikes

No content available.

References

Comstock, J.A. (1966) Lepidoptera of American Samoa with particular reference to biology and ecol., Pacific Insects Monographs, Ent. Dept., Bishop Museum, Honolulu, Hawaii, U. S. A., 11: 1-74.

Meyrick, E. (1886) Descriptions of Lepidoptera from the South Pacific. Trans. ent. Soc. Lond.:189-296.

Schulze, C.H. (2000) Auswirkungen anthropogener Störungen auf die Diversität von Herbivoren. (Analys von Nachtfalterzönosen entlang von Habitatgradienten in Ost-Malaysia). Unpubl. PhD Thesis, University of Bayreuth, Germany, 350pp.

Swezey, O. H. (1941) Notes on food habits of Lepidoptera in Samoa. Proc. Hawaii. Ent. Soc. 11 (2): 202-216.

Walker, F. (1859d [May 10]) Pyralides, In; List Spec. Lepid. Ins. Coll. B. M., Cat. Lepid. Heterocera. Ser. 4, 18: 509-798.

Genitalia

No content available.

DNA Barcode

No content available.

3D Imaging

No content available.

Spare

No content available.
KEY TO TABS
(1) Taxonomy, (2) Description, (3) Distribution & Habitat, (4) Life History & Pest Status, (5) Similar spp., (6) Unrelated Look-alikes, (7) References, (8) Genitalia, (9) DNA Barcode, (10) 3D Imaging, (11) Spare