Cnaphalocrocis rutialis Walker, [1859]; PED 15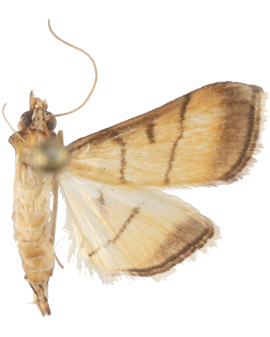 Taxonomy

The holotype of Botys rutilalis Walker, 1859: 665 is from from Sri Lanka. It is considered a junior subjective syn. of Cnaphalocrocis medinalis after Lederer 1863: 355 who suggested that the female of C. jolinalis [jolealis] = B. iolealis Walker 1859d: 666 was syn. with Botys rutilalis Walker. Schulze has a number of specimens from Sabah. Because of differences in fasciation we provisionally consider it a good sp..

Description

Wing length: 7mm. A typical Cnaphalocrocis sp. in brown and coppery yellow. The FW has a distinct brown patch along the subcosta. However note the curved shape of the FW submedian line where it approaches the costa and the absence of the large patch of curled scent scales which is present on the FW of the males of C. medinalis. Schulze (2000) taxon #343.

Distribution & Habitat

'N. Hindustan', Sri Lanka, Sabah, China (Hong Kong), Australia; Lowland and cultivated areas; <460m.

Life History & Pest Status

The larva probably feeds on the leaves of grasses (Poaceae).

Similar spp.

Cnaphalocrocis medinalis
C. iolealis Walker

Unrelated Look-alikes

No content available.

References

Walker, F. (1859d [May 10]) Pyralides, In; List Spec. Lepid. Ins. Coll. B. M., Cat. Lepid. Heterocera. Ser. 4, 18: 509-798.

Schulze, C.H. (2000) Auswirkungen anthropogener Störungen auf die Diversität von Herbivoren. (Analys von Nachtfalterzönosen entlang von Habitatgradienten in Ost-Malaysia). Unpubl. PhD Thesis, University of Bayreuth, Germany, 350pp.

Genitalia

No content available.

DNA Barcode

No content available.

3D Imaging

No content available.

Spare

No content available.
KEY TO TABS
(1) Taxonomy, (2) Description, (3) Distribution & Habitat, (4) Life History & Pest Status, (5) Similar spp., (6) Unrelated Look-alikes, (7) References, (8) Genitalia, (9) DNA Barcode, (10) 3D Imaging, (11) Spare