Bleszynskia malacelloides Bleszynski, [1955]; PED 5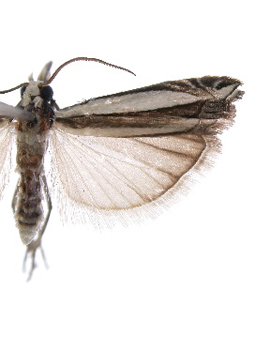 Taxonomy

The holotype of Crambopsis malacelloides Bleszynski, 1955: 229, figs. 3, 6 from Australia (Tas.) is in Warsaw.

Comb. n. to Angustalius Marion, 1954: 50 (Bleszynski, 1965: 29, 230)

Comb. n. to Bleszynskia de Lattin, 1961 (Shaffer et al. 1996)

Description

Wing length: 8mm. A handsome species. Distally from the black FW costa is a broad white, median, longitudinal streak. In the submarginal area the the streak is notched and then expands to the termen. Apically either side of the acutely angled subterminal line the subcosta has four short white streaks. Another broad longitudinal streak extends along the rear margin. The HW is mainly pearly white but suffused with brown around the subcosta and radius veins.

There is a specimen named as this species in the Agricultural Research Centre, Tuaran (Sabah) under Chilo partellus (Swinhoe, 1885: 879) but it is not this sp.

Distribution & Habitat

Africa, India (S & N), Sri Lanka, Vietnam, Sabah, Australia (TAS), New Zealand (N. Is.), China (Jiangsu, Zhejiang, Hunan, Fujian, Guangdong, Guangxi, Kwangtung, Hong Kong), Taiwan.

Lowland to submontane agricultural land; <1400m.

Life History & Pest Status

Stem borer of Oryza sativa (rice): Graminae (Conway & Tay, 1968). A pest sp.

Similar spp.

no content available.

Unrelated Look-alikes

no content available.

References

Bleszynski, S (1955) Polski Pismo ent., 25 (15): 229, figs 3,6.

Bleszynski, S (1965) In Amsel, H. G., Gregor, F. & Reisser, H., Microlepid. Palaearct. 1: 29, 230, figs. 3.6.

Shaffer, M., & Nielsen, E.S. & Horak, M., (1996) Pyraloidea. Nielsen, E.S., Edwards, E.D. & Rangji (Eds.) Checklist of the Lepidoptera of Australia: 164 - 199, CSIRO, Australia.

Genitalia

no content available.

DNA Barcode

no content available.

3D Imaging

no content available.

Spare

no content available.
KEY TO TABS
(1) Taxonomy, (2) Description, (3) Distribution & Habitat, (4) Life History & Pest Status, (5) Similar spp., (6) Unrelated Look-alikes, (7) References, (8) Genitalia, (9) DNA Barcode, (10) 3D Imaging, (11) Spare