Analyta diaphana Hampson, [1891]; PED 12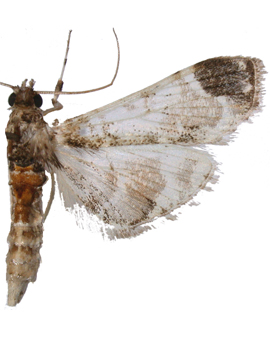 Taxonomy

The female holotype of Cirrhochrista diaphana Hampson, 1891: 135, pl. 155, fig.11 from India (Nilgiris) is in the NHM.

Agrotera leucostola Hampson, 1896, Analyta apicalis Hampson, 1896 and A. sigulalis Guenée, 1854 are very similar and may be syn. The A. apicalis group is in need of revision.

Description

Wing length : 10mm. A pale thinly-scaled sp. with faint grey marking and a black apical patch on the FW. The body may be silvery white when fresh but usually becomes brownish as the scales are lost. The male is similar but has long black anal hair pencils. In A. apicalis the HW has a small black spot at the apex in A. leucostola there is a diffuse black patch.

Distribution & Habitat

India (Tamilnadu), W. Malaysia, Sabah, Brunei, Phillippines, Indonesia (Salayer). Lowland primary forest (inc. canopy); <580m.

Life History & Pest Status

no content available.

Similar spp.

Agrotera [Leucinodella] leucostola
Analyta apicalis
A. sigulalis

Unrelated Look-alikes

no content available.

References

Hampson,G.F. (1891) The Lepidoptera Heterocera of the Nilgiri district. Ill. typ. spec. Lepid. Heteroc. coll. B.M., 8. 144 pp., pl. 139-156, London.

Genitalia

no content available.

DNA Barcode

no content available.

3D Imaging

no content available.

Spare

no content available.
KEY TO TABS
(1) Taxonomy, (2) Description, (3) Distribution & Habitat, (4) Life History & Pest Status, (5) Similar spp., (6) Unrelated Look-alikes, (7) References, (8) Genitalia, (9) DNA Barcode, (10) 3D Imaging, (11) Spare