Antigastra catalaunalis Duponchel, [1833]; PED 12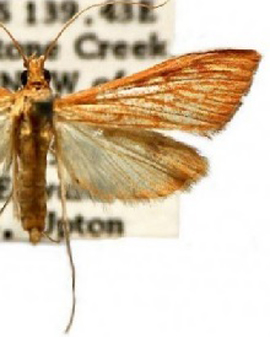 Taxonomy

As its name suggests the holotype of Botys catalaunalis Duponchel, 1833: 330, pl.232, fig. 8. is from Spain (Catalonia, Barcelona). Comb. n. to ANTIGASTRA (Lederer 1863).

Description

This is a distinctive pearly, pink and yellow mottled species.

Distribution & Habitat

Worldwide in the tropics, subtropics & S. temperate regions. Europe (S, C), Middle East, Africa, All Asia, India, Nepal, Thailand, China, Taiwan, Australia (Q, W, NT, NSW). New World - Colombia.

Life History & Pest Status

Antigastra catalaunalis is a major and serious pest of sesame (Sesamum indicum) (Pedaliaceae) (Common, 1990). A leaf roller/capsule borer, damaging the crop from seedling to flower and capsule stage. Initially it webs the upper portion of plant feeds on the vegetative parts, whereas at flowering stage it feeds on the flowers and at capsule stage it bores into the capsules. The pest infests 10-70% of leaves causing 10-60% yield loss. Infestation of 34-62% of flower buds / flowers & 10-44% infestation of pods results in <72% yield losses. One to three larvae are enough to denude a fully grown plant within 24 to 48 hours. The ecology is addressed by Ahirwar et al. (2010).

Similar spp.

no content available.

Unrelated Look-alikes

no content available.

References

Ahirwar, R.M., Gupta, M.P. & Banerjee, S. (2010) Bio-Ecology of Leaf Roller / Capsule Borer Antigastra catalaunalis Duponchel, Adv. in Biores. 1 (2), 90-104.

Duponchel, P.A.J. ([1836] 1821-1842.) In Godart, J.B. & Duponchel, P.A.J. Hist. nat. Lépid. Papillons Fr. Crevot/Méquignon-Marvis Fils, Paris, 11 vols + 4 suppls, pls 546.

Lederer, J. (1863) Beitrag zur Kenntniss der Pyralidinen. Wien. entomol. Monat. 7: 243-280, 331-502, pl. 2-18.

Genitalia

no content available.

DNA Barcode

no content available.

3D Imaging

no content available.

Spare

no content available.
KEY TO TABS
(1) Taxonomy, (2) Description, (3) Distribution & Habitat, (4) Life History & Pest Status, (5) Similar spp., (6) Unrelated Look-alikes, (7) References, (8) Genitalia, (9) DNA Barcode, (10) 3D Imaging, (11) Spare